What Graduates Say About Mindful Monkeys Teacher Trainings
"This was a very thorough training led by an extremely knowledgeable trainer, Monika Murcasel-Gressier. Throughout the training, it was obvious that the physical and mental health as well the best interests of the children were first and foremost. The graduates of this training will be well qualified to teach children of all ages and abilities."
by Vicki Gaebe
"Excellent training!! Goes well beyond teaching asanas and modifications appropriate for kids of different ages, class plans, and class materials for different age groups. Includes brain development and neuroscientific research, and has a strong focus on social-emotional learning (SEL). Monika Gressier, owner and head of Mindful Monkeys, is extremely knowledgeable and always available for questions or concerns. She's a wonderful person and an excellent professional! I could not have chosen a better school for my CYTT!"
by Katrin Stoerr de Queiroz
"This training experience with Mindful Monkey's was very enriching. I confidently feel like I can use what I have learned from this training in teaching children's yoga classes."
by Rachel Breit
"Mindful Monkeys Miami was the absolute best choice I could have made for completing my training for children's yoga. They went above and beyond the scope as they added SEL and mindful components that made it a well-rounded program. My students will benefit into adulthood from what they are learning on a physical, mental, emotional, and social level."
by Ute Dorsy


Why Mindful Monkeys?                           
The monkeys are silly, witty, playful, curious, and funny. They move around, jump around, and it may seem like they cannot calm. But they are calm as they learn how to breathe with their bodies and minds. They understand that finding stillness helps them become aware of themselves and their surroundings and stay silly but calm.
Philosophy

Mindful Monkeys believes that all children are capable of learning the skills to self-regulate and self-control while remaining curious, silly, and playful.
Our comprehensive approach includes parents, children, and educators, teaching everyone the ability to be present, find stillness, and become aware of their minds (thoughts), bodies, and emotions. We coach kids to develop skills for social connection, which is crucial for children's development into healthy adults.
Mindful Monkeys' science-based methodology incorporates self-regulating techniques for parents, educators, and children, resulting in more positive connections and healthier relationships.  Mindful Monkeys has created a safe, fun, and flexible environment to offset the pressures and stressful routines that our children and teens may be facing in today's world.
Mindful Monkeys Methodology

Mindful Monkeys has developed a methodology based on three pillars: Neuroscience - Mindfulness and Yoga - Social-Emotional Learning. There are plenty of studies and research on each one of the pillars. By understanding the brain behaviors and responses, we can be more capable of connecting to our emotional and physical bodies, thus making it easier to learn how to manage our emotions and behaviors. The study and understanding of all three enables children to cope with their internal and external stressors of daily life and teaches them lifelong techniques for living a mindful life.  
Some of the benefits of integrating the three pillars are: 

Understanding the brain behavior and reactions

Self-awareness: be able to recognize and comprehend one's emotions and how they translate into our behaviors

Self-management: ability to regulate one's feelings and behaviors

Social awareness: looks outward and is about empathizing with others and being willing to understand and respect the individuality of others

Relationship skills: create and maintain healthy relationships through cooperation, active listening, conflict resolution and communication

Responsible decision-making: making safe and healthy choices to benefit of their well-being and the well-being of others

Mindfulness: looking inward, by understanding and connecting to their brain, nervous systems, emotions and practicing the tools for self-regulation
Our curriculum is based on the five core competencies developed by CASEL's (Collaborative for Academic Social and Emotional Learning) frame wheel known as the "CASEL wheel," including 1. Self-Awareness, 2. Self-Management, 3. Social Awareness, 4. Relationship skills and 5. Responsible Decision Making. I have added a 6th component: "Mindfulness" tools adapting to each child's and adolescent's age, language capability, and physical ability. The Mindfulness tools are built on:

Mindfulness and Breathing:

 This enables children and adolescents to learn strategies, which help decrease anxiety, balance energy levels, and create a feeling of peace.

Mindful Movement:

 Appropriate yoga poses allow participants to learn body awareness and maintain optimal physical function. The poses are intended to develop physical strength, flexibility, balance, and release muscular tension. By linking each moment with the breath, participants can better focus on their minds. 

Relaxation:

 This tool offers participants an opportunity to rest and recharge by drawing their awareness inward and practicing stillness. Rest is essential for all children and adolescents, and it can be especially beneficial if they experience fatigue or stress due to testing and pressures for high performance. 

Engaging activities:

 Taping, music, sounds of nature, art activities, and games help cultivate a stronger sense of connection with themselves and learn to manage their emotions better.
Mindful Monkeys children and teens yoga school believes in connecting and balanc­ing every child's living environment. Children develop the ability to self-regulate by be­ ing around regulated adults, especially parents and teachers. Unfortunately, at present, whole families and classrooms are stressed due to the fast pace of life, and the lack of peace and harmony impacts behavior and relationships. Based on that, we offer workshops for parents and educators aiming to recreate a peaceful and har­ monic environment in homes and classrooms.
Our courses will provide comprehensive training for mindfulness and yoga prac­tices for children and teens. Students will understand the relationship, be­ tween the brain, body, and nervous system per age group.
We will teach the necessary tools for tapping into each child's social and emotional intelligence. Understand the physical, cognitive, social, and emotional benefits of yoga and mindfulness-based interventions for children as reflected in the growing evidence-base.
Through our training, we can bring the inner child and passionate love for teaching children. We focus on creating a community of teachers that will love what they do and have the passion for breaking a paradigm within society. We together can improve the lives of all children, parents, and educators.
Everyone is encouraged to become a certified yoga teacher for children and teens.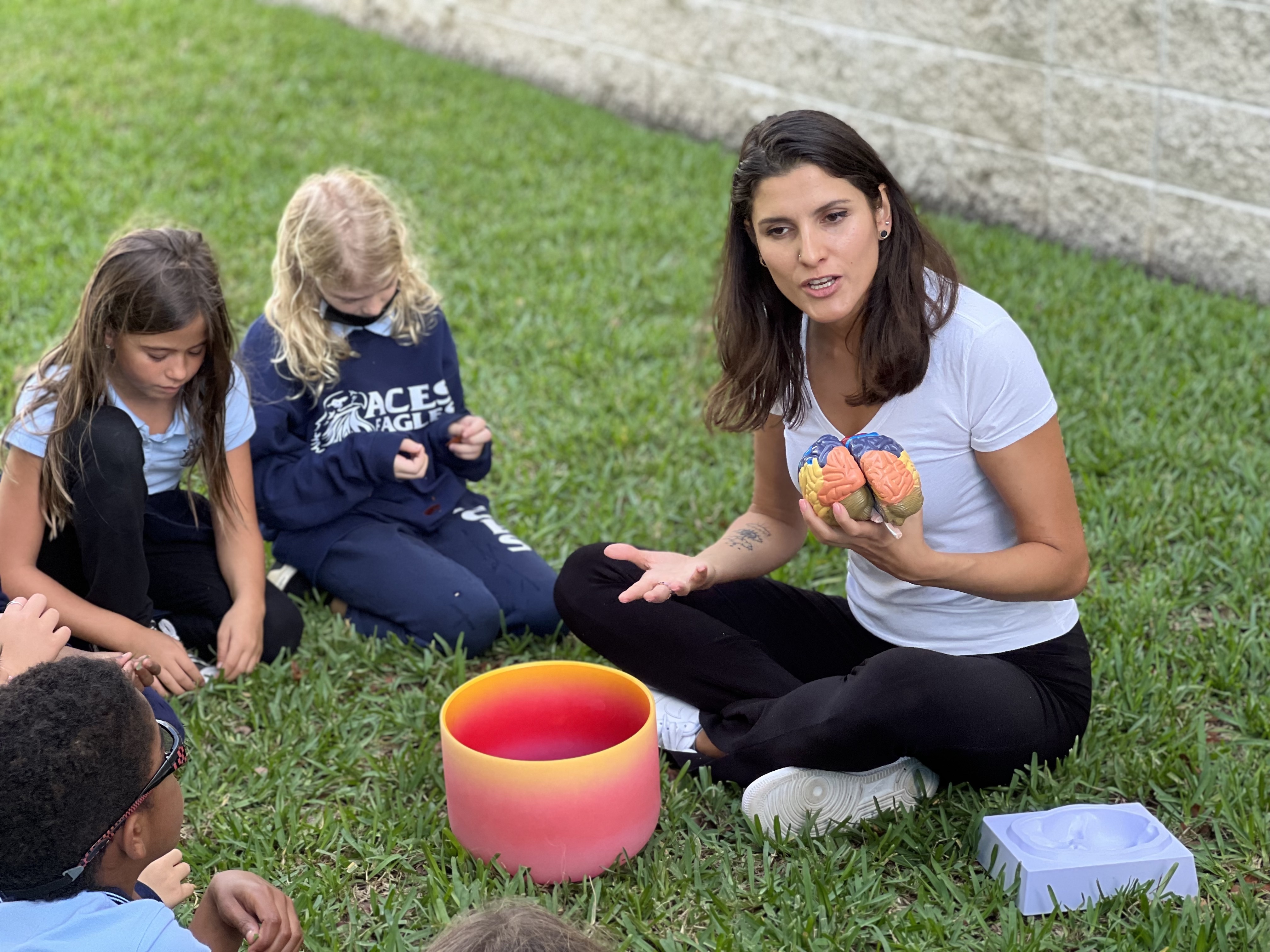 A Methodology Rooted in Neuroscience
A key element of our training is to teach how to understand brain behavior and how they are connected to emotional and physical responses. This knowledge enables us to be more self-aware and improve self-regulation skills.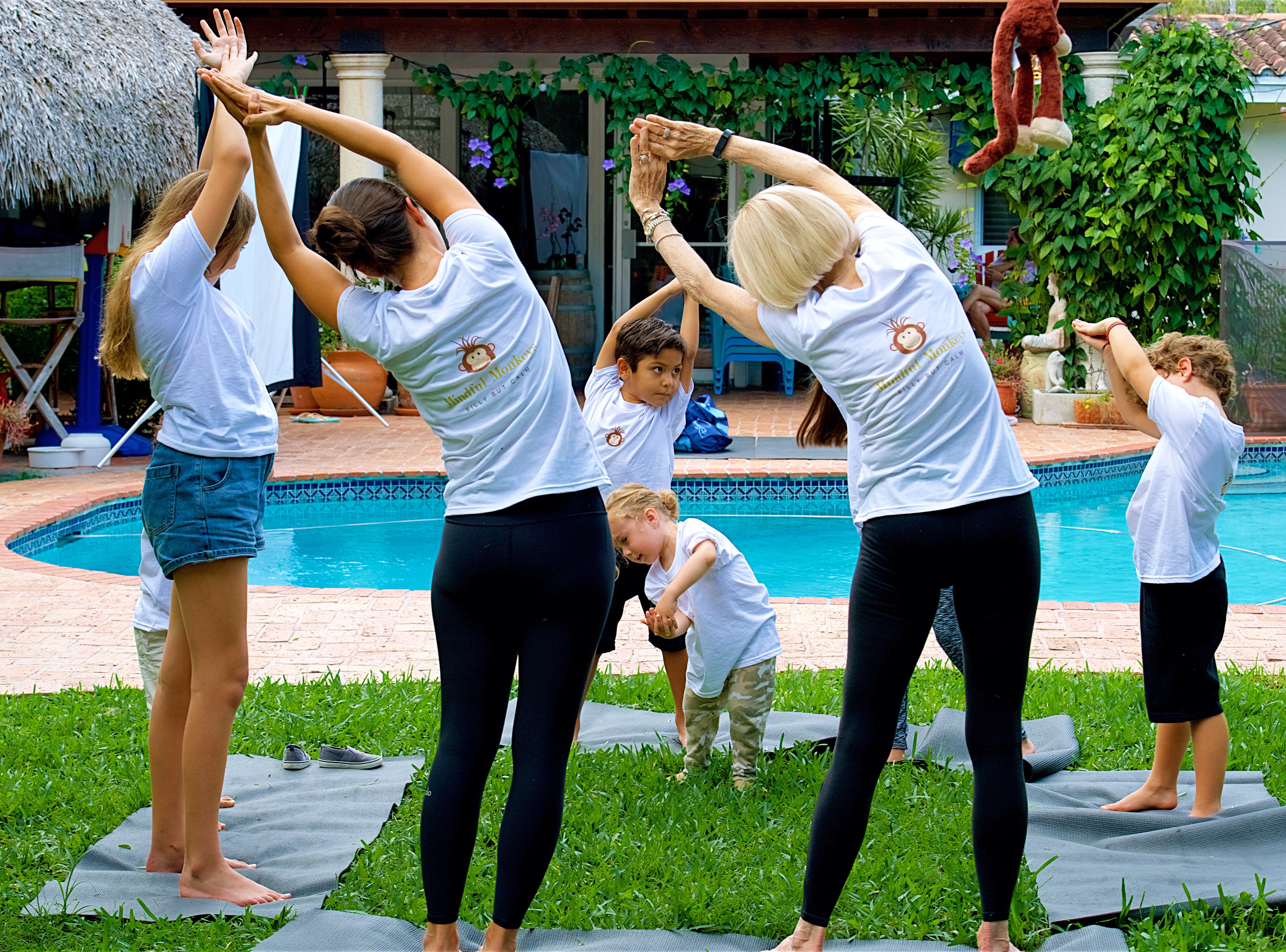 Science-based techniques to teach lifelong self-regulation and relationship skills to children
The training includes exercises for yoga movement, mindfulness, and relaxation that have been successfully tried with children ages 2 - 11 and have shown positive results with children practicing regularly.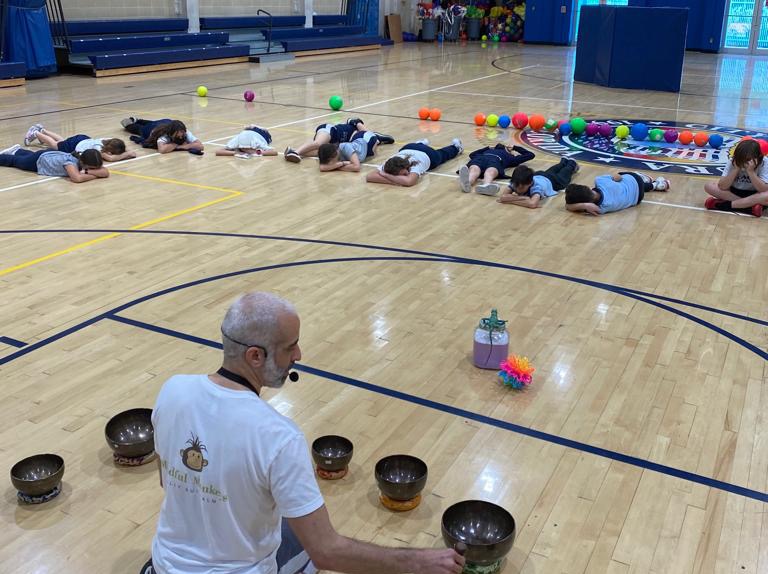 Proven Techniques to Successfully
Manage Classes of all Sizes and Ages
Managing the flow of classes can be challenging, especially with young children or very large groups. You will true and tried tools that have worked in real class settings with continuous success while honoring our commitment to conscious discipline.



About Monika - Our Founder
From an early age, Monika loved monkeys. Because she lived near the Amazonian landscape, she had the chance to raise monkeys. Pepe was her favorite; he was silly and full of life but had difficulty calming down. She noticed that when she was present with him, he would calm down and listen.

That memory stayed in her mind for years to come. She raised three children, including one born with seven different neurological challenges. Learning how to deal with a child with different abilities allowed her to discover her passion for brain development and neuroscience.

Following a fast-paced career in the corporate sphere, Monika decided to change paths and jump into the practice of yoga to embark on a journey of mind, body, and soul enlightenment. After practicing for more than twenty years through different yoga styles such as Ashtanga, Hatha, Anusara, and Vinyasa, Monika received her 200-hour TTC certification and a 95-hour Yoga Children's certification. She has completed several webinars on Early Childhood Development and Neuroscience by Mindbe and Online Conferences on Yoga, Neuroplasticity, and the New Science by The Embodied Brain. 
Monika has been a long-time volunteer at The WOW Center, specializing in people with cognitive and physical disabilities, where she has provided yoga and mindfulness tools for teachers and a wide range of clients.
For the past six years, she has dedicated her time to developing a mission and science-based methodology that is meant to support and assist children and teens overcome life's daily stressors. She founded Happy Tree Yoga, managed and developed classes for YokiYoga, and merged her experiences and knowledge to co-found "Happy Warriors Yoga," becoming a nationally Registered Children/Teen Yoga School by Yoga Alliance. After pioneering the mindful movement into South Florida schools for children and teens, Monika created Mindful Monkeys to dig deeper into the social and emotional learning needs of kids ages 2 to 18 with the practice of mindfulness. Her SEL-Mindfulness approach is impacting children across K-12 South Florida schools.


Check your inbox to confirm your subscription